Tefal KD801811 Cake Factory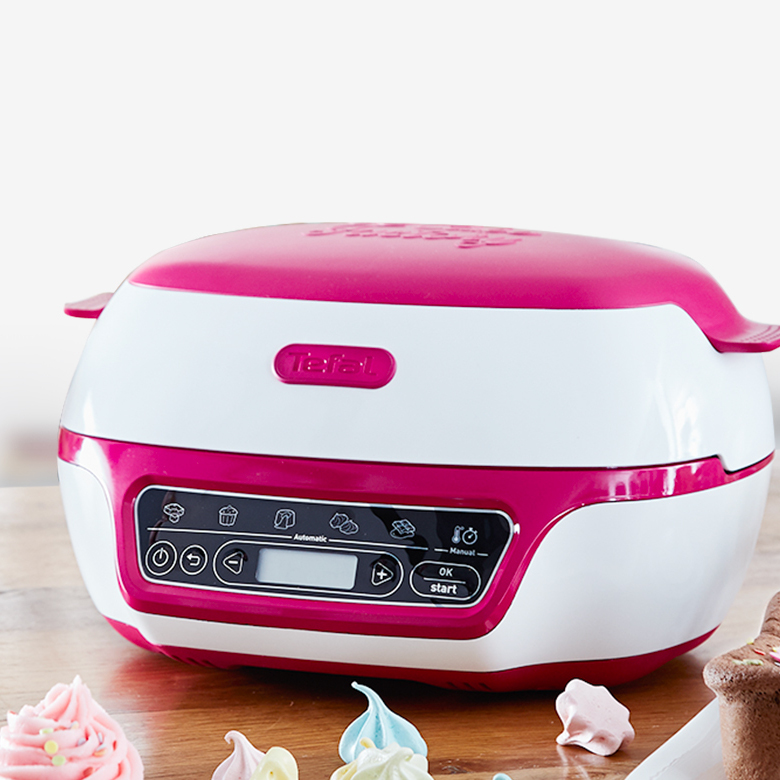 The Cake Factory is the latest product from Tefal. It is an oven designed to bake all types of cakes. Marketed from 149€, the Cake Factory comes with 3 moulds, a non-stick split mould and 2 silicone moulds. The different programs
The Cake Factory has 5 dedicated programs that you can find on the screen located on the outside of the device:
Cakes to share: for brownie-type cakes.
Individual cakes: to make cookies or other muffins.
Fluffy heart: to make chocolate fluffy cakes for example.
Meringue: as the name suggests, this feature allows you to bake meringues.
Chocolate Melting: this mode will allow you to melt chocolate and butter without running the risk of burning it.
All recipes are designed for a maximum of 6 people. It also includes a manual program that allows you to choose the cooking temperature but also the duration. Also, the cooking temperature ranges between 40 and 240 degrees which leaves a wide enough spectrum for any type of cooking.
All in all, the Factory cake is very practical since it is simply a matter of making the preparation and choosing the dedicated program. No need to watch the baking, the Cake Factory takes care of it all by itself. The cake machine is at ease with baking. It is quick and relatively precise and the machine does not need any pre-heating time.
A few points to keep in mind
We regret the lack of safety in the use of the device since the cover has no clip system. Unfortunately, anyone will be able to open the lid when the unit is in use. Since the Cake factory is intended for use by families, including children, great care must be taken when handling it, especially as the product heats up outside. Temperature readings have shown that the lid can reach 60 degrees.
It is also important to pay attention to the cooking temperatures, which are not always respected by the appliance. The delta can reach up to 10 degrees of difference, which will affect the final result. It is up to you to judge after use the right temperature to indicate.
In conclusion, this product is perfectly suitable for lovers of home-made pastries. The product is simple and quick to use and its appealing price of 149€ is reasonable. You can also find it for much less on other commercial sites than the manufacturer's one. On the other hand, if the customer wants a perfect baking such as an insider in pastry making, the cake factory will probably not be adapted to his needs. In this case, it would be better to do without it and simply opt for a traditional oven that also does the job very well.
Commercial Food Processor Food Grinder 4l Sus Tomato Chopper Vegetable Dicer