Cuisinart Custom 14, 14 cup food processor DFP-14BCNY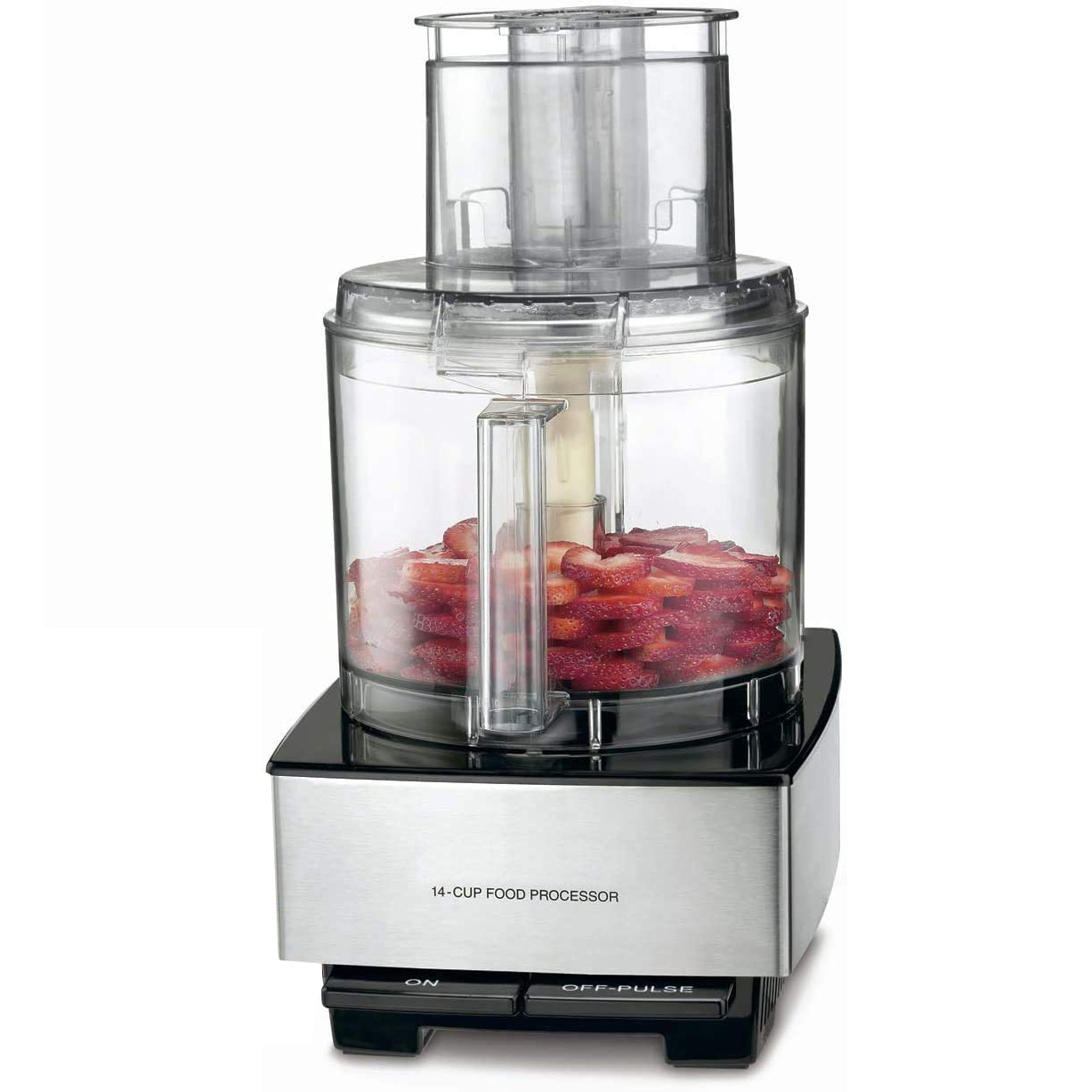 Cuisinart has been a household name since the 1970s. Known for its wide range of high quality products, Cuisinart is back in the spotlight with its new "14-cup" version. Offered for less than $249.95 on the manufacturer's website, this robot is one of the cheapest on the market. Is it able to guarantee a good level of performance for all that? This is what we will see.
A robot with an imposing size
Cuisinart continues the tradition of the new CUSTOM 14™ 14 CUP FOOD PROCESSOR. With a design almost similar to its predecessors, the food processor doesn't give us a new impression upon unpacking. Nevertheless, the style remains sober and elegant. We also appreciated the simplicity of the robot's assembly. Indeed, its simplified design means that this robot is assembled very quickly. It consists of a motor, a disc and blades of your choice and a work bowl. An instruction manual will be delivered with the robot to help you in its assembly. The dimensions of the robot are quite imposing with almost 11.00" in length for 7.90" in width and almost 14.80" in height. This is immediately reflected in its weight, which is slightly over 8 kilos on the scale. Considering its imposing size, you will not be able to move it to your wishes.
The cuisinart 14 cup will be delivered with :
A large 14 cup work bowl;
An extra-large feeding tube for easy food preparation;
All cutting discs: slicing disc, grating disc, chopping disc and dough blade. All discs are made of stainless steel.
A recipe book and an instruction guide;
A spatula.
Note that all of the parts mentioned above are dishwasher safe, which makes them very practical for regular use.
The Cuisinart food processor is equipped with a large capacity bowl, hence its name 14-cup, which refers to a capacity of approximately 14 cups of coffee. This means you can make large batches of food, including complex foods such as pizza dough or cookies. Moreover, the large feeding tube that accompanies the food processor will also help you in the conception of recipes in large quantities by acting as a pusher. This food processor is designed for families of more than 4 people, because of its large size, which allows you to prepare large quantities in one go.
Successful results despite some limitations
Despite its affordable price, the Cuisinart 14 cup is a very versatile device. With the help of the various discs, the Cuisinart 14 cup is able to perform 7 functions to achieve your preparations. The 720 watt motor is not a warrior, but it does the job. It is guaranteed for 5 years by the manufacturer. During the chopping test, the 14-cup performed quite well. Whether it was almonds or onions, we obtained consistent results in each of these tests without leaving any solid pieces. By the way, the blades stop immediately when you stop pushing the button, so you can precisely control the chopping of your food. If you choose the jerk chopping option, it will take less than 30 seconds to chop your onions. However, you'll need to flip the onions in the container with the spatula to get an even result. On the other hand, we are rather disappointed with the result of the carrots for which the result was not quite up to our expectations with some badly chopped or even solid pieces. Moreover, the robot makes excellent pizza doughs despite its slow execution. The motor is indeed powerful enough to do the job properly. However, the mixing was less efficient when making mayonnaise, where the lemon juice did not mix properly with the eggs. For pureeing, the cuisinart 14 Cup is very efficient with near perfect results. The test with the tomato was satisfactory. Just press the "on" button to puree the tomato in less than 15 seconds. Don't hesitate to turn your preparation with your spatula to avoid solid elements. You will also be able to better control your preparation thanks to the "off/pulse" button that will allow you to blend in fits and starts.
Our conclusion
In conclusion, we are seduced by what Cuisinart offers with its 14 cup. It is indeed one of the best food processors from a quality/price point of view. Although its performance is not outstanding, the food processor will more than meet your needs, even if you are not a chef. In summary, here is a list of the elements that we appreciate:
an affordable price
an extra-large feed tube that is very useful for versatile use
the quality of the purees and pizza doughs
a sober and pure design
On the other hand, during the test, we appreciated less :
the weight of the food processor which forces us to park it on the work surface;
a motor warranty of only 5 years when other manufacturers offer more than 20 years;
a motor that sometimes hums, although it remains powerful enough for daily use
All in all, this robot gives us a feeling of quality despite a contained price that, at first glance, could leave us doubtful. This impression of quality is confirmed by the numerous customer reviews, most of which are satisfied with the robot's performance.
Commercial Food Processor Food Grinder 4l Sus Tomato Chopper Vegetable Dicer