Lidl Silvercrest Multi-Functional Food Processor test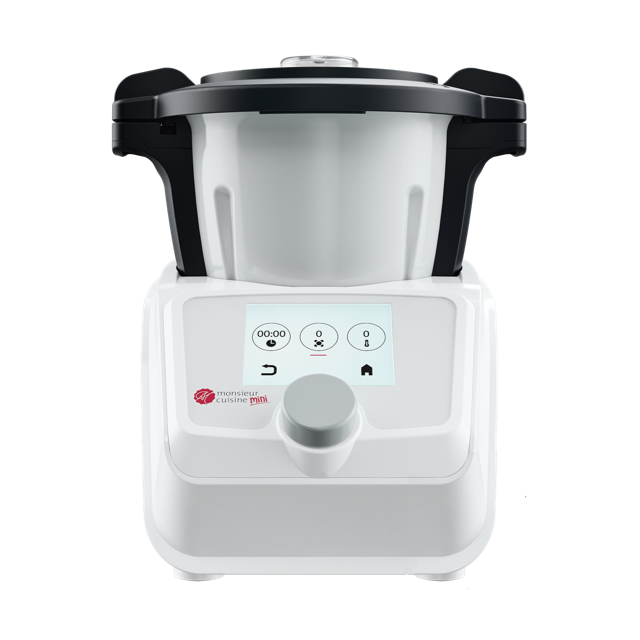 Lidl is offering a new edition of the Mister Kitchen Mini from December 5, 2022. Unlike its big brother Smart, the Mini is a toy. Children will be able to learn how to use a multi-functional food processor. We call this food processor a toy because only the mixing function is functional, the device cannot weigh or heat. The blade is made of plastic for safety reasons, the cutting and the power are limited. The toy is recommended for children from 3 years. Lidl's multi-functional robot toy is guaranteed Bisphenol A (BPA) free and comes with a 3 year warranty.
The proposed price in December 2022 is €37.99 (the launch price was €34.99 in 2019).
Lidl has launched:
The robot is supplied with four AA batteries, you cannot connect the toy to the mains. An indicator on the screen will alert you when the batteries have no more capacity.
Many accessories are provided:
mixing bowl with lid and filling opening
steam cooking set with lid
plastic blade
blender
spatula
measuring glass
The Monsieur Cuisine Mini has a safety device that stops the motor as soon as the lid is opened
The Monsieur Cuisine Mini has a non-touch color screen. Children can interact with the rotary knob. The screen is small, the steps of the recipes are detailed with icons, you have to take the manual to associate each icon to a preparation step.
Examples of icons are:
glass: chocolate milk
mug: chocolate cake and cup
round with lines: waffle batter
glass with straw: raspberry yogurt
bowl with spoon: vanilla yogurt
Your children will be able to make five integrated recipes:
chocolate milk
waffle batter
valinne cream dessert
chocolate chip muffins
raspberry yogurt
You have access to many functions including :
time setting
motor speed setting
turbo mode
right or left rotation
temperature display (game function not functional)
display of my weight (game function not working)
dough kneading
This product will make people happy under the Christmas tree and will make an educational gift for children. Learning will be interesting by giving method and explaining how to follow the steps step by step. It is necessary to first teach the children the cooking times, the safe cutting of food, and the assembling of food. This tool is therefore a complement to learning to cook by showing the contribution of a robot for the automation of tasks and home-machine interaction.
Commercial Food Processor Food Grinder 4l Sus Tomato Chopper Vegetable Dicer